Our Fantastic Kindergarten Readers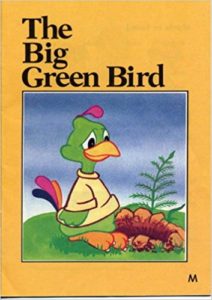 We're so proud of our Kindergarten kids…why? Because they can read. Experts agree that reading is fundamental to all other learning, and so we're proud that our kids have a head start on their education. It all started when they attended K4 last year here at Grace Christian Academy. They learned to read while sounding out the words phonetically.
When the school year began last fall, these students continued in K5 where they left off in our K4 program. They already know how to identify words phonetically, and they simply added more phonics rules to those they had already mastered.
The result? Well, click on the link below and have a listen for yourself. This link is of one of our Kindergarteners. She just turned 6 years old, and she's reading all by herself.
"Can You Make a Piggy Giggle?"
---
Frequently Asked Questions regarding GRACE's Accelerated Reading Program (ARP)
Q . What does the 4-year-old Kindergarten reading curriculum consist of?
A. Our K4 class starts out the year with recognizing the names, sounds, and pictures of all the letters, including both long and short vowel sounds. After they've mastered that, the class moves on to two letter blend "ladders" such as ba, be, bi, bo, bu. Don't be surprised if your child comes home singing the blend song! After the blends, the students simply add a consonant on to the end of the blend to make simple one vowel words, such as dog, bed, and cat. As soon as they are able, the students are reading sentences and short stories formed from the words they know. Near the end of the year, the students learn two vowel words, and special rules, such as a silent e at the end of the word. Please visit the Curriculum page to view some of the other things our K4 class is doing.
Q. What does the 5-year-old Kindergarten reading curriculum consist of?
A. Our Accelerated K5 class starts out reading early. We believe that this is key. Our K4 students end the year reading, and so we want our K5 students reading as soon as possible thereby reinforcing all of the previously learned rules. Our students have already mastered the basic phonics rules in K4, and so our K5 students work through charts which include more advanced phonics sounds. They begin the year with sounds such as "ck in duck", "st in stop" and "tr in train". They typically end the year with sounds such as "tain in mountain", "sion in missionary", and "eigh in eight". All through the year, our K5 students are reading…and writing as well. The Georgia Department of Education standard for writing is "write letters of the alphabet and begin to represent words with letters" and "recognize sentences and begin to understand that sentences begin with capital letters and end with some type of punctuation". Our K5 kids greatly surpass that standard. By the end of the year, our K5 students are writing sentences and even writing three sentence stories with titles. Our kids were simply "writing letters" back in K4. Please visit the Curriculum page to view some of the other things our K5 classes are doing.
Q. Can my son still enroll in the Accelerated K5 if he did not attend K4 at GRACE?
A. Yes. If your child has mastered the basic phonics rules that we cover in our K4, then he will be tested to see if he is ready to start the year in the Accelerated K5 class. Many five year olds, however, have not yet learned these rules or could use some more practice. For this student, the one who is eager and excited to learn new things, we offer our Traditional K5 program. The Traditional K5 class starts the year out with more study of the basic phonics rules, but our Traditional K5 class still exceeds the state standards by a wide margin — and the kids are reading by the 12th week of school.
Q. What are the state standards for Kindergarten?
A. The Georgia Department of Education state standards can be found by clicking here: Georgia Standards. If you feel that your child is ready for more than simply telling the difference between letters, words, and sentences and actually reading them, then GRACE is the place to help make that happen.
Q. What are the enrollment procedures?
A. Just click here and read about the steps you need to take to enroll your child. Please call the school office at 770-461-0137 to begin the enrollment process.